Press Release
Edo de Waart Conducts Mozart With Milwaukee Symphony Orchestra
Performances feature pianist Inon Barnatan
MILWAUKEE, WIS. 03/24/2015 – The Milwaukee Symphony Orchestra and Music Director Edo de Waart present de Waart Conducts Mozart on April 10-11, 2015 at the Marcus Center for the Performing Arts. The performances feature Brahms's Academic Festival Overture, Schumann's Piano Concerto with pianist Inon Barnatan, and Mozart's Symphony No. 40.
Both concerts include Meet the Music, a free, interactive pre-concert discussion held one hour prior to concert start time, in Uihlein Hall at 10:15 a.m. on Friday and in Anello Atrium at 7:00 p.m. on Saturday.
Brahms's Academic Festival Overture, Opus 80 was composed in 1880 and premiered in 1881. The University of Breslau gave Brahms an honorary doctorate in 1879 for his achievements as a composer and hoped he would compose a work in recognition of the honor. Brahms described his composition as a "merry potpourri of student songs," and the Academic Festival Overture is based specifically on "We Have Built a Stately House," "Patriotic Song to the Father of the Country," "What comes there from on High," and the Medieval Latin university song, "Therefore, let us rejoice."
Schumann's Piano Concerto in A minor, Opus 54 was composed between 1841-1845. His wife Clara, a great piano virtuoso of her time, encouraged Schumann began work on a concerto. He envisioned the solo piano as more intertwined and unified with the orchestral forces rather than treating it as an independent voice. Clara Schumann gave the premiere of the Piano Concerto with the Leipzig Gewandhaus Orchestra on New Year's Day in 1846.
Mozart's Symphony No. 40 in G minor, K. 550 was composed in 1788.Mozart composed three symphonies from June to August that year, though the circumstances of why they were written and when they were first performed remains unknown. While some view No. 40 as the pinnacle of classical form, embodying what Robert Schumann described as "Grecian lightness and grace," others view it as a precursor to Romanticism, with palpable pain and agitation bubbling to the surface.
ABOUT THE ARTISTS
Edo de Waart is in his sixth season as the sixth music director of the Milwaukee Symphony Orchestra in 2014.15. He also serves as chief conductor of the Royal Flemish Philharmonic and conductor laureate of the Netherlands Radio Philharmonic Orchestra. Regular guest conducting appearances include the Chicago Symphony, NHK Symphony, and Royal Stockholm Philharmonic orchestras as well as the Netherlands Radio Philharmonic Orchestra where, as with the San Francisco Symphony and Hong Kong Philharmonic, he has previously held a post. At the end of the 2013.14 season, he returned to the New Zealand Symphony Orchestra.
As an opera conductor, de Waart has enjoyed success in a large and varied repertoire in many of the world's greatest opera houses. He has conducted at Bayreuth, Royal Opera House Covent Garden, Grand Théâtre de Genève, Opera de Bastille, Santa Fe Opera, and The Metropolitan Opera. His most recent appearance at The Met received rave reviews for Der Rosenkavalier, and he will return to the house in future seasons. In addition to semi-staged and concert opera performances with his orchestras in the United States, he regularly conducts opera with the Netherlands Radio Philharmonic Orchestra as part of the Amsterdam Concertgebouw's Zaterdag Matinee series, most recently Richard Strauss's Salome.
Edo de Waart's extensive catalogue encompasses releases for Philips, Virgin, EMI, Telarc, and RCA. His most recent recording is with the Royal Flemish Philharmonic; Mahler's Symphony No. 1 was released in April 2013. Future releases include Wagner's Tristan und Isolde: Nachtgesang und Isoldes Liebestod (arr. Henk de Vlieger) with the Netherlands Radio Philharmonic Orchestra and Elgar's Dream of Gerontius with the Royal Flemish Philharmonic.
At the age of 23, de Waart won the Dimitri Mitropoulos Conducting Competition in New York which resulted in his appointment as assistant conductor to Leonard Bernstein at the New York Philharmonic. On his return to Holland, he was appointed assistant conductor to Bernard Haitink at the Royal Concertgebouw Orchestra. In 1967, the Rotterdam Philharmonic Orchestra appointed him guest conductor and, six years later, chief conductor and artistic director. Since then, he has also been music director of the San Francisco Symphony and Minnesota Orchestra, chief conductor and artistic director of the Sydney Symphony, and chief conductor of De Nederlandse Opera.
Israeli pianist Inon Barnatan has been named as the New York Philharmonic's first artist in association, a major three-season appointment highlighted by multiple concerto and chamber collaborations with the orchestra. The Avery Fisher Career Grant recipient has performed recitals at Carnegie Hall, Washington's Kennedy Center, Wigmore Hall, and the Concertgebouw, among others. He is a member of the Chamber Music Society of Lincoln Center and frequently performs as a recital partner of cellist Alisa Weilerstein.
Barnatan has performed with many of the world's leading orchestras, including the Los Angeles Philharmonic; the symphony orchestras of Atlanta, Dallas, Cleveland, Philadelphia, and San Francisco; the Academy of St. Martin-in-the-Fields; Deutsche Symphonie Orchester Berlin; National Arts Centre Orchestra; and the Orchester de la Suisse Romande. Born in Tel Aviv in 1979, Barnatan started piano at the age of three and made his orchestral debut at 11. He has studied with Professor Victor Derevianko, himself a pupil of Russian master Heinrich Neuhaus; Maria Curcio, a student of the legendary Artur Schnabel; Christopher Elton at London's Royal Academy of Music; and Leon Fleisher. For more information, visit inonbarnatan.com.
ABOUT THE PERFORMANCE
de Waart Conducts Mozart
Edo de Waart, conductor
Inon Barnatan, piano
Uihlein Hall, Marcus Center for the Performing Arts
Friday, April 10 | 11:15 a.m.
Meet the Music | Uihlein Hall | 10:15 a.m.
Saturday, April 11 | 8:00 p.m.
Meet the Music | Anello Atrium | 7:00 p.m.
Tickets range from $25-105. For more information, please call 414.291.7605 or visit mso.org. Tickets may also be purchased through the Marcus Center Box Office at 414.273.7206.
ABOUT THE MSO
The Milwaukee Symphony Orchestra, under the dynamic leadership of Music Director Edo de Waart, is among the finest orchestras in the nation and the largest cultural institution in Wisconsin. Now in his sixth season with the MSO, Maestro de Waart has led sold-out concerts, elicited critical acclaim, and conducted a celebrated performance at Carnegie Hall on May 11, 2012. The MSO's full-time professional musicians perform over 135 classics, pops, family, education, and community concerts each season in venues throughout the state. Since its inception in 1959, the MSO has found innovative ways to give music a home in the region, develop music appreciation and talent among area youth, and raise the national reputation of Milwaukee.
Mentioned in This Press Release
Recent Press Releases by Milwaukee Symphony Orchestra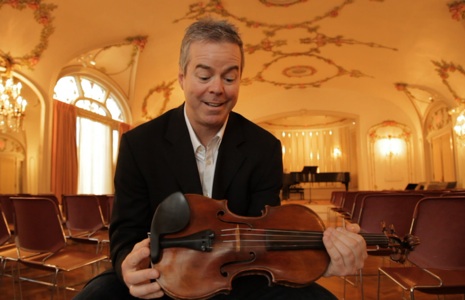 Sep 20th, 2019 by Milwaukee Symphony Orchestra
As the Charles and Marie Caestecker Concertmaster Chair of the MSO, Almond holds arguably the most prestigious and visible role within the orchestra.