Building Info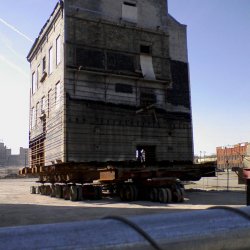 Address

:

423 W. Juneau Ave.

Status

:

Year Built

:
Learn More
Photos
Content referencing Gipfel Union Brewery

While it certainly sounds ridiculous, I think it's a distinct possibility that Robert Ruvin could have prevented most, if not all of the trouble stemming from the Saturday night fiasco at RiverSplash on Old World Third Street and Water Street.
Jun 3rd, 2008 by Jeramey Jannene

Resolution 071564 proposed the vacation of two "paper" alleys to support the Palomar development project within the Park East. Apparently Alderman Bob Bauman read Mary Louise Schumacher's article in the Journal Sentinel, History lost in Park East bait-and-switch, because he stated that "I see this as a bait and switch" referring to the dramatic change in design that the Palomar project has undergone since it was originally proposed before Milwaukee County. The original design included the utilization and preservation of both the Sydney Hih and the Gipfel Brewerys whereas the latest design would demolish the Sydney Hih structure and move the Gipfel Brewery to another site. The committee voted to hold this file in attempt to exert some influence over this development. Normally the City of Milwaukee would have influence over development projects that involve land sales and zoning changes but as the new design required neither this is an unusual course of action. Resolution 080211 was a communication from the Public Policy Forum regarding their report on the Milwaukee County Transit System (MCTS). The report indicates that in coming years MCTS will have completely spent all of a $44 million reserve of funds and will be projecting deficit spending. It goes on to show how MCTS has spent capital funds to support operational budgets and by doing so has deferred the purchase of 150 new buses. These deferments have pushed maintenance costs higher and will help create a $18 to $20 million dollar hole in upcoming budgets.
May 29th, 2008 by Dave Reid

The controversial Sydney Hih project , that last summer was turned down for city financing of a TIF, appears to moving forward again. The first indications were the signing of multiple tenants to the project as recently reported in the Bizjournal article "Ruvin recruits Park East tenants". The second significant step forward occurred this morning when the Public Works Committee approved a resolution agreeing to a long term lease with Ruvin Development Inc. of the city's parking garage at 4th and Highland. This is important because Ruvin Development Inc.'s attempts to receive a TIF district revolved around the project's perceived parking needs, so this agreement should allow Ruvin Development Inc. to move forward with the project. Additionally this will create a new revenue stream for the City of Milwaukee and better utilizes a city owned parking structure. I believe these two recent developments are very encouraging signs and that the Sydney Hih project may soon get underway. To follow this development I've started a flickr set, Sydney Hih that I will update with new pictures to keep track of the progress. Please note currently there's just one photo as no construction has begun. Articles Ruvin recruits Park East tenants Plans on tap to rejuvenate Gipfel Brewery Billion-dollar building boom Gatehouse Capital and Ruvin Development select Kimpton for Milwaukee boutique hotel opening late 2009
Oct 30th, 2007 by Dave Reid

Murphy's Law
Community leaders seem to agree the Bradley Center and Wisconsin Center should combine forces to save the Milwaukee Bucks.
Jun 20th, 2001 by Bruce Murphy