Data Wonk
How Liberals Imitate Right Wing
Their stance on Abele and charter schools is just as close-minded as right wingers.
//end headline wrapper ?>
Get a daily rundown of the top stories on Urban Milwaukee
One theme in my columns has been that the conservative movement increasingly suffers from a narrowing of permitted opinion. If empirical evidence differs from approved theory, the conservative reaction is to reject the evidence rather than modify the theory. As a result, conservatives find it more and more difficult to come up with realistic solutions to the nation's problems. Those who try to do so find themselves marginalized, drummed out of the movement, or fired from their jobs with conservative think tanks. Why, then, do some on the left push for a similar narrowing of allowable thought?
The term "epistemic closure" is sometimes used to refer to political belief systems that are closed-off and therefore immune to empirical evidence. This term was first used by the libertarian commentator Julian Sanchez in a 2010 post:
One of the more striking features of the contemporary conservative movement is the extent to which it has been moving toward epistemic closure. Reality is defined by a multimedia array of interconnected and cross promoting conservative blogs, radio programs, magazines, and of course, Fox News. Whatever conflicts with that reality can be dismissed out of hand because it comes from the liberal media, and is therefore ipso facto not to be trusted. … To prevent breach, the internal dissident needs to be resituated in the enemy camp. ….
In Milwaukee, conservatives listen to Charlie Sykes and Mark Belling or go to an array of conservative web sites that won't challenge their biases.
In its post mortem on why Mitt Romney lost the 2016 presidential election, the Republican National Committee recognized the problem, concluding the party "needs to stop talking to itself. We have become expert in how to provide ideological reinforcement to like-minded people, but devastatingly we have lost the ability to be persuasive with, or welcoming to, those who do not agree with us on every issue." The RNC quoted Peggy Noonan complaining about "how groupthink has taken over."
Noonan, in turn, quoted Joe Scarborough saying, "Everybody's afraid to talk… The national conversation is more constricted, with radio stars, websites and magazines functioning as unofficial arbiters and limiters of domestic and foreign policy debate." Noonan added that in 1994 the Republican Party "was alive with ideas: ….This was the bubble and fizz of a movement at its height." The RNC concluded that "Third-party groups that promote purity are hurting our electoral prospects."
Get a daily rundown of the Milwaukee stories
Liberals, by contrast, generally place more emphasis on empirical evidence, rather than insisting their theory is always right. There is no liberal talk radio in Milwaukee. Fox News is far more financially successful than MSNBC.
That said, epistemic closure is alive and well on the left in Milwaukee. Consider the expansion of attacks on Chris Abele, culminating in the Chris Larson campaign against him, based largely on the charge that Abele is not a liberal. Paraphrasing Sanchez, Abele has been "resituated in the enemy camp," routinely described as "conservative" by the Shepherd Express and in a recent fundraising appeal from an organization called Blue America, which apparently hopes to play a role on the left analogous to that played by right-wing groups like the Club for Growth and Americans for Prosperity.
As with conservative organizations in their attacks on moderate Republicans, the anti-Abele forces base their appeal on ideological purity rather than his effectiveness as County Executive. The recent Public Policy Forum report on the Milwaukee County budget is mostly upbeat, finding "the County is making substantial headway in its long and grueling march from perennial financial crisis to relative fiscal normalcy." It goes on:
"While 'status quo' often has negative connotations, this state of affairs is very much a positive, as it indicates the extent to which the County's diligent efforts to restore structural balance are bearing fruit. The County Executive has referred to his 2016 recommended budget as 'a demonstration of Milwaukee County turning the corner towards a sustainable and better future.' We find that there is much in the budget to support that statement."
This report represents not only an endorsement of progress made during the Abele administration but also an implicit rebuke to the previous administration of Scott Walker, where the main emphasis was on cutting without looking for ways to enhance services. In a world more focused on results than ideology, Democrats might see the political advantage of a turnaround led by a Democrat. Liberals, of all people, should want government programs to work well.
One irony of Abele's disputes with the county board, is that he, the accused conservative, has often been on the liberal side. One example is the board's vote to rebuild the Estabrook dam, in opposition to the environmental groups. Another is the apparent alliance between the board and Sheriff David Clark when it comes to patrolling the county parks. Yet another example is described in a recent column by Kit Murphy McNally published in Urban Milwaukee and well-summarized by its title, How Sheriff Clarke Wrecked House of Correction: And how it's been improved since he lost control.
One tactic used by those on the right promoting purity is to equate reaching out to selling out. A recent column from Christian Schneider illustrates this well. Entitled The toxic embrace that ended Chris Christie's career, it blamed Governor Christie's inability to gain traction in the Republican presidential race on photos of his meeting, and possibly embracing, President Barack Obama in the wake of the devastation wrought by Hurricane Sandy. This photo made Christie extremely popular in New Jersey, as someone willing to work across the party divide for the good of his state, contributing to his overwhelming victory in his reelection.
Yet Schneider is saying, without a hint of irony, that the Republican base is so petty it is unwilling to forgive any gesture to reach across party lines. The fact that Schneider seems to applaud such pettiness says a lot about the moral decay of today's conservative movement. (Schneider also ignores problems on Christie's watch, including "Bridgegate," that might have explained his recent fall in popularity.)
Similarly, the major charge made against Abele is that he has been willing to work with the enemy, mainly Gov. Walker and Republican legislators, to establish the so-called Opportunity Schools Partnership Program, which is authorized to take over a limited number of failing MPS schools each year.
In a recent email Larson claims that "executive takeovers of schools have never worked as promised." While the Wisconsin legislation falls far short of a mayoral takeover of MPS, it is worth testing Larson's statement against the record in cities where the school system has come under the control of the mayor.
A 2013 report from the liberal Center for American Progress concludes that "mayor-led districts may use resources more strategically" and "have seen increases in student achievement," although, as with almost everything in education, there are no guarantees. The map to the right, taken from the CAP's report, shows that mayor-led schools are mostly in blue states and in cities with Democratic mayors.
In two cases the threat posed to the school board—that if you are unwilling to turn around a failing school, someone else may do it for you–has already had a positive effect on Milwaukee Public Schools.
In the first case, a proposed charter school aimed at children in the city's poorest neighborhoods was rejected by the board, even though the outside members of the district's charter review committee unanimously supported it. Once it became clear the takeover legislation was likely to pass, the school board reversed course and approved the charter school. The school is scheduled to open this coming fall.
The second case is the proposal from the MPS administration to establish a third branch of the Carmen charter school in the Pulaski High School building and establish a partnership between Carmen and Pulaski. Without the takeover threat, it appears the bare 5-4 school board vote in favor would have been unattainable.
It is worth looking at the Pulaski situation further, as it shows how difficult it is to turn around failing schools without some outside pressure. Pulaski has all the signs of a failing high school. In the past two years enrollment dropped by 200 students each year. The next two charts show performance on last year's state social studies and science tests for Pulaski and for the two Carmen campuses (when last checked, the DPI had not posted results for the other state tests).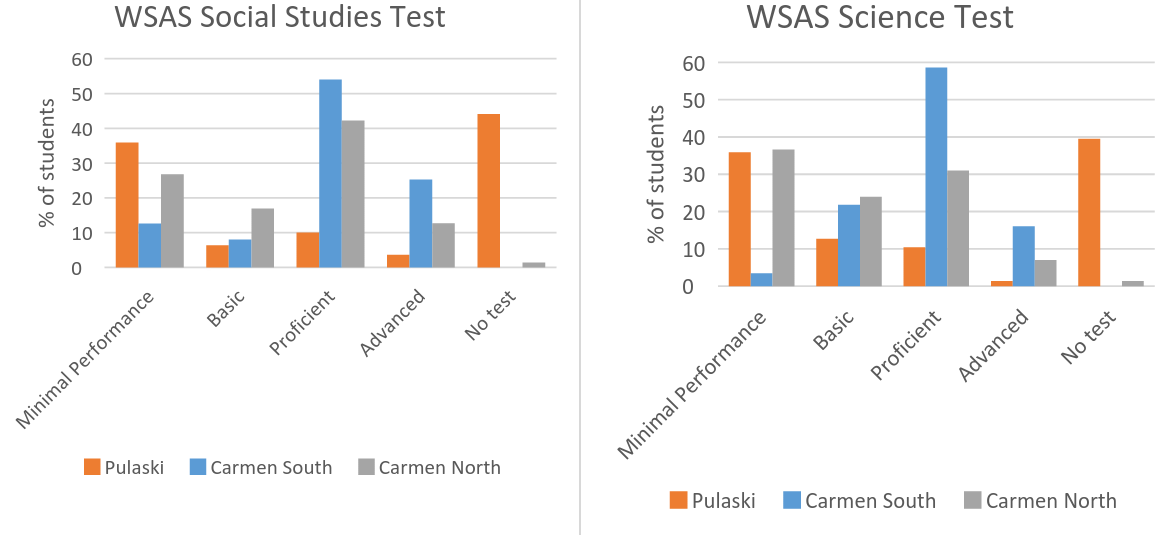 At Pulaski 12 percent of students scored proficient or above in science, compared to 75 percent at Carmen South and 38 percent at the recently established Carmen North (this was the first year of testing). In social studies the percent proficient was 14 percent at Pulaski, compared to 79 percent at Carmen South and 55 percent at Carmen North. Especially disturbing is the large number of Pulaski students who seem to have given up and did not show up on test day.
Whether the partnership with Carmen will be sufficient to turn around Pulaski is highly doubtful based on the public hearing for the proposal. Most of those testifying against the proposal were Pulaski teachers and they showed little willingness to learn. Instead I came away with the impression they regarded the Pulaski building as their private property about to be invaded by foreigners analogous, in the words of one, to the German invasion of the Sudetenland.
The triumph of ideology on the right, at the expense of the empirical, has been very profitable for a variety of advocacy groups and media, and has often led to electoral success. However, it has also led to the death of serious conservative analysis. Folks on the left should be very cautious about embarking on the same course.
If you think stories like this are important, become a member of Urban Milwaukee and help support real, independent journalism. Plus you get some cool added benefits.