Bike Czar
Fourth Bicyclist This Year Killed
Meanwhile the law continues to offer little protection for bicyclists and pedestrians.
//end headline wrapper ?>
Get a daily rundown of the top stories on Urban Milwaukee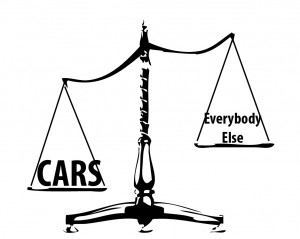 I am sorry to report that Saturday morning, 71-year-old Robert Tschabrun, from Stanley, was found dead in a ditch northwest of the Chippewa, the victim of a hit-and-run crash.  According to news reports, 27-year-old Krista Holler hit Tschabrun, left her car in a nearby field, called a friend to pick her up and did not notify authorities. Tom Held reports on his blog The Active Pursuit, that Holler has a long history of criminal driving, including having been convicted of operating while intoxicated twice,  speeding, operating without insurance, operating without a valid license and inattentive driving.
Although Holler had not been arrested at the time this post was published, criminal charges are pending against her, according to the sheriff's department. They say the crash happened sometime around 5 am Saturday morning. Tschabrun, a popular dentist from the Chippewa area, is the fourth person killed riding a bicycle so far this year. Last year at this time, despite a very early spring, we only had one fatal crash.
The most recent Weekly Fatal Report from WisDOT:
*********************************************************
| | | | | |
| --- | --- | --- | --- | --- |
| | MC DRIVER | 13 | MC DRIVER | 25 |
| | | | | |
| --- | --- | --- | --- | --- |
| | PASSENGER | 31 | MC PASSENGER | 3 |
| | | | | |
| --- | --- | --- | --- | --- |
| | PEDESTRIAN | 14 | PASSENGER | 41 |
After seeing this report on WEAU-Eau Claire, a reader from Shell Lake asked a question many of us may be thinking :
"My question is why was she not in jail or being monitored by a leg bracelet? Please watch this case and hold anyone accountable at reelection time if they let her off with a slap on the wrist again. So many people affected by the actions of an uncaring worthless drunken low life. This has got to stop now."
As I have written many times in the past, in our society the scales of justice are tipped way in the favor of people driving motor vehicles compared to more vulnerable road users walking, riding bicycles, riding motor cycles, working construction and even law enforcement officers. Far too often the punishment for criminal driving behavior is little more than a slap on the wrist. Culturally, too many of us treat driving a car as an afterthought or something we can fit in while eating and talking on the phone. I have even watched television news reports of people who go to court, have their driving license revoked, leave court and get into their cars to drive home or back to work.  Rather than reporters following these brazen criminals out of court and catching them in the act ten minutes after their license has been revoked, it would be better to have law enforcement do that.
There was a time when most people lived close enough to where they worked, shopped, went to school and recreated that they could take walk, bike or take transit to their destinations. My grandfather had a car, but never drove it to work as long as he lived. In today's world, unfortunately, for many people in Wisconsin, unless they move, change jobs or give up important parts of their social lives, driving a motor vehicle is a necessity. But it need not be dangerous if we give it the full attention it deserves when we are behind the wheel and drive with extra care when we are around more vulnerable road users.
I heard from a person on the Milwaukee Bikes to Work Yahoo Group that his nephew was killed by a drunk driver while biking home from work last week in Chicago. He asks that people please sign the petition (below) to force a trial with no plea bargain:
Ryne Sanhamel, while driving drunk with a Blood-Alcohol level of .125 drove into and killed cyclist Bobby Cann. He should stand full trial and not a negotiated plea bargain to determine his sentence.
http://petitions.moveon.org/sign/no-plea-bargain-for-ryne
We will keep you up to date as details of these tragedies are released. Meanwhile, please keep the friends and family of Robert Tschabrun and the three other people killed while riding bicycles in your thoughts and prayers.
This story was originally published by the Bicycle Federation of Wisconsin.