World's Stage brings "Waiting" to Milwaukee…and beyond
Bob Kelly and Kelly Pomeroy's song cycle will travel to New York after its Milwaukee premiere this week, to be performed at the Off-Broadway Cherry Lane Theater.
Get a daily rundown of the top stories on Urban Milwaukee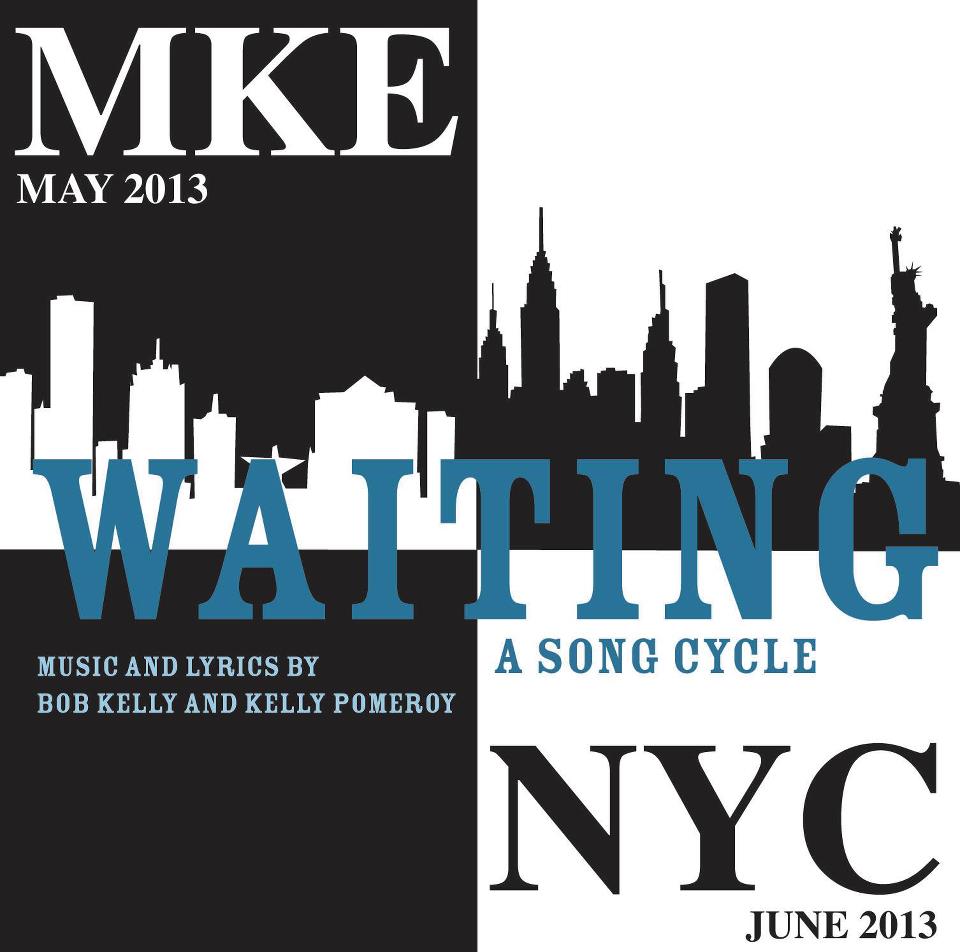 The game of love offers no guarantees–relationships sizzle and fizzle, bring happiness and tears, cause us to give up on the whole endeavor entirely, but then return to the pursuit of romance in the next breath.
That's the premise behind Waiting…A Song Cycle, an original play by Bob Kelly and Kelly Pomeroy that made its debut in 2011 at St. Olaf College. This weekend, the show comes to Milwaukee's Tenth Street Theatre, but that isn't its last stop. The World's Stage Theatre Company will subsequently travel to New York City in June to debut the play at the Off-Broadway landmark Cherry Lane Theatre.
Director JC Clementz says the play revolves around relationships, each on the verge of something new.
"Waiting is a play about how everyone is always waiting for that next step: waiting for the relationship to explode, waiting to make the step to approach someone," Clementz said. "We follow these characters at various points in their lives. They are all interconnected; that's the central theme behind all of the songs that bring these people together. They all learn something about themselves and about their relationship with the other person."
This play is truly a Milwaukee original, having undergone enough alterations in production that
Gretchen Mahkorn
feels comfortable calling it a world premiere. Mahkorn, the artistic director of World's Stage and the show's producer, fell in love with the score and got in touch with Kelly and Pomeroy to bring the song cycle to Milwaukee. "We have made some changes to the script," Clementz said. "I've been working with Kelly and Pomeroy to streamline everything. This is not the same production that was first performed at St. Olaf. There are two new songs and we have completely changed the storyline. It's really exciting to do a new work. We were still making changes up to last week."
Music director Colleen Schmitt has loved the entire behind-the-scenes creative process. The songs have been evolving, but everyone involved in the production has been flexible and eager to learn the catchy score. "The music is really good," she says. "It's a little bit Ben Folds, a little bit Jason Robert Brown."
According to actor Robby McGhee, who plays Joel, a teacher falling for a co-worker, part of Waiting's appeal is that it's applicable to all without slipping into the usual cliches. "This isn't something you read about in a romance novel; it's very original," he said.
That originality makes it easy for him and his fellow cast members to slip into their roles. "Joel is a high school teacher who falls in love with one of his fellow teachers who flirts with him all the time," McGhee said. "This is the story of my life. I'm always seeking after people who are toying with my heart."
Sally Staats, the actor playing teenager Nora, finds the play just as dead-on. "I was Nora in high school," she said, "crushing on someone who doesn't even know you exist. Then you're terribly heartbroken before finding the next person to crush on."
It's heart-tugging themes like that which have helped propel Waiting onto the stage. In June the entire cast and crew heads to New York City's Greenwich Village–an Off-Broadway mecca–for a weeklong run of the show at Cherry Lane Theatre. It's a bold move that Mahkorn hopes will be of great benefit to the company.
"One of our missions and goals at World's Stage is to perform original works," Mahkorn said. "Another is to not only build relationships in this community, but also in other cities as well. Last summer our company started talking about doing more traveling. We thought that New York City would be a great place because Bob Kelly is a student in NYU's MFA program. We sent out feelers to different venues there and we fell in love with the Cherry Lane Theatre. It's the longest continuously running Off-Broadway space in Manhattan. They really liked Waiting and World's Stage's mission and we'll be there for a week in June."
But the show isn't being seen by its cast and crew as a mere stepping stone to the Big Apple theater world: it's a way to show off the one they're coming from. "There's such a vibrant theater scene here in Milwaukee," Mahkorn said. "Not a lot of people outside of this city know that. We want to show that off to New York City."
So never fear: World's Stage will return from its stint on one of the world's most historic stages. Just don't wait for them to return, or you'll miss out on the whole thing.
Waiting…A Song Cycle, a world premiere by The World's Stage Theater Company, will run this weekend only at the Tenth Street Theatre. Performances are at 8 p.m. Thursday and Friday, 4 and 8 p.m. Saturday and 2 p.m. Sunday. Tickets are $15, $12 for students, and can be purchased online.