The Celebrated Workingman
//end headline wrapper ?>
Get a daily rundown of the top stories on Urban Milwaukee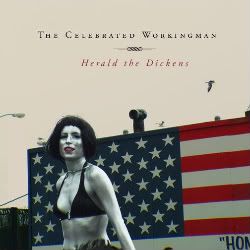 Putting a sparkling veneer on struggles and giving them buoyancy takes chutzpah. Adversity in music has mostly been relegated to the sad, dark corners of the mope-ish and the forlorn, with abundant minor chords and enough terrible renditions of proverbs to make even a schoolteacher blush.
The Celebrated Workingman's Herald The Dickens is a joyful example that ups and downs can be positively high-spirited. The almost non-existent minor chord, exuberant use of slide-guitar and glockenspiel, shared vocal duties and driving percussion contradict the words prominently and emotively displayed by front man Mark Waldoch.
"Now, I'm no bird who's battered …you'll get better offers / I'm your worst, and I'm rehearsed,"
Waldoch announces on "Islands," his Morrissey-on-steroids vocals displaying no signs of cracking or caving, but retaining the hope that propels each song on the album forward at industrious speeds.
Rough times are a powerful catalyst for the driven and triumphant displays of musicians, yet taking those rough times and creating some of the most sparkling indie-pop to grace the Milwaukee musical landscape since the recent likes of Maritime and Testa Rosa is admirable. Not only does it contain the same sparkle, but also it manages to have a bit of brawn behind all the pretty bells and whistles. The band that's six people strong sounds like it, and then some.