Development Continues in the Third Ward
//end headline wrapper ?>
Get a daily rundown of the top stories on Urban Milwaukee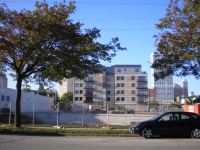 At the corner of N. Jackson St. and E. Menomonee St. the construction fences have gone up and preliminary work has started on the Jackson Square Apartments.  The five-story Jackson Square Apartments project with have approximately 80-units, and 9,000 square feet of retail space.  This infill project replaces a surface parking lot and adds rental options during a period when rental occupancy rates are running above 95% indicating a still strong market for new rental properties.
Just down the block, at the corner of N. Milwaukee St. and E. Menomonee St. the Catalano Place project has seen significant progress.  Originally designed as an new structure the project was scaled back and now includes the redevelopment of the former Beck Carton facilities.  This project also filled in an existing surface parking lot and will add new retail slots in the Third Ward.
Over at the Marine Terminal Lofts the development has been occupied for over a year but wasn't finished because its riverwalk segment hadn't been built.  This had been delayed for quite sometime now and it had been thought to be waiting for the construction of Mandel Group's Domus development.  Despite the delays the riverwalk segment now looks to be near completion.