//end headline wrapper ?>
Get a daily rundown of the top stories on Urban Milwaukee
Photo by Erin Landry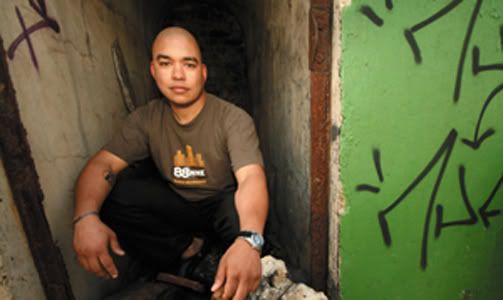 We just received the heartbreaking news that DJ Rock Dee — 88.9 Radio Milwaukee on-air host, all-around DJ-about-town, consummate family man and hugely loving force in the community — died on Friday. He was 40 years old.
Rock Dee was one of the first true personalities I met when I moved to Milwaukee. We worked together at Guitar Center in Brookfield, where I was the door girl, the first and last line of shrink defense. It was a job I'd done in Detroit for two years at one of the biggest Guitar Centers in the region, a hub for the city's estimable population of hip-hop producers and performers. In Milwaukee, the store was small and patronized mostly by sweaty teenage shredders. I didn't know anyone, and Brookfield was a haul. It was lonely, disillusioning and nowhere near as fun with a college degree and rent to pay as it was when I was an amorous 20-year-old.
But from the get-go, Rock Dee, a diminutive bundle of dynamite, was explosively welcoming, greeting me every shift with a huge smile, a booming greeting and often a big hug. He called me "the pretty pitbull," going out of his way to tell our coworkers that it was impossible to get anything past me. As a coworker he was helpful, patient, and warm; he was always moving, talking, selling, shouting, connecting with people, just brimming over with energy and positivity and soul. There was a wisdom and a confidence in everything he did, and his love of life, his zeal for it, was evident in every gesture, every holler, every reassuring grin. He was truly, more than anyone I have ever encountered, larger than life.
It was a great joy over a year later to hear his voice in the morning on Radio Milwaukee, full of that same positivity and kinetic energy, more exciting than a giant cup of coffee. In VITAL's October 2007 Music Issue, we ran a profile of Rock Dee in an article called "Know Your DJ." When we asked him about his worst night as a DJ ever, he said, "God bless – none yet." It sums up, I think, the grace and the gratefulness and the positive energy he lived by.
It's always painful to let people go, especially before their time, but it is a comfort to know that he lived large, he lived well and he brought so much joy and happiness to the lives of his family and friends and the countless listeners who listened to his radio show and saw him perform. He will be hugely missed. VS
A benefit for Rock Dee's family will be held at the Wherehouse, 818 S. Water St., on Sunday, August 17, from 1 pm to close. De La Buena, The Rusty P's, Cache, Fever Marlene and dozens of DJs will perform. More information available at the 88.9 Radio Milwaukee Soundboard.
This Wednesday, August 6, a memorial for Rock Dee will be held at Bradford Beach from 2pm – 5pm.