Systems, Please Wait Ten Minutes & This is Entitled
This is Entitled
//end headline wrapper ?>
Get a daily rundown of the top stories on Urban Milwaukee
By Jaymee Sherman
On a muggy Thursday evening they filed into the dark space in search of something cool and refreshing. But it wasn't air conditioning or beer on tap that beckoned them – it was hip and, for the most part, satisfying theater that was anything but escapist. Tonight, beyond the Fourth Wall, the audience would be invited to explore along with the actors the existential ruminations of three playwrights.
The Alchemist Theatre in Bay View currently hosts Insurgent Theatre's original series of meta-theatre pieces that all take aim at the Fourth Wall – prodding it, peeking through it, breaking it down and sometimes completely demolishing it. At evening's end one is left to ponder just when fiction and reality began to merge and where scripted lines gave way to improv. Everything melds into one and the rules fall by the wayside.
The evening started out with a bang with Russ Bickerstaff's Please Wait Ten Minutes, the story of two hired assassins, polar opposites in demeanor, who debate over their profession, life and the findings of the Warren Commission. Pensive Nova, played deftly by Peterson Kuyk-White, laments over the absence of honesty and morality in the modern world. Soma, played to perfection by Kirk Thompson, is a guy who asks no questions and just gets it done. When responding to Nova's sudden meeting with conscience he replies with a sardonic, "We're assassins," and then the play takes off. Thompson's comic prowess and his unselfconscious portrayal make Soma a likeable guy – for a hitman. Nova, the neophyte, is more philosophy professor than assassin's protégé. The Fourth Wall begins to crack when Nova admits to being ill-at-ease in the presence of witnesses. At any moment, their target could appear and they'd be called to action before this strange group of people, the audience. Soma completely dismantles the Fourth Wall when he reminds Nova that they're only actors playing a part. No one will really be killed, therefore no one need feel guilty. Thereafter, while seated at a table, the actors flip through the script referring to lines of dialog and the playwright's intent in a casual and off-the-cuff style. Their skillfulness with comedy and their unaffected delivery throughout made laughter both easy and irresistible.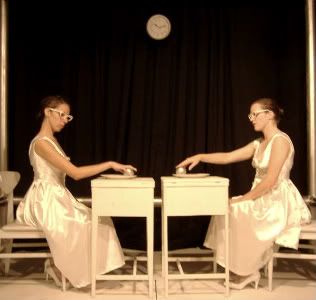 Companion piece Systems by Peter J Woods featured the delightfully fresh and funny Tracy Doyle as the superficial Diawl and Cynthia Kmak as Mior, the perfect picture of today's modern worker lost in the system and trying to find a way out. Another study in opposites, here two people pressed into the same lifestyle cope with futility – one thrives, the other squirms, frets and struggles to find meaning where there is none. Diawl, content to live a lifetime of redundancy, is cheery and playful, taunting her co-worker and companion in a space-age style version of the office cubicle. She jabs at Mior with impish glee as Mior strains to lift herself out of an existence devoid of promise. Beyond the Fourth Wall, where the light glimmers at the corners, Mior is convinced there must be something more. Encouraged by the light, she contemplates a new system and then another and another, casting each one down in turn when unable to defend them against the complacent, but undermining, Diawl. In the end, resigned and eerily peaceful, she resumes her place in the System. Diawl, long-suffering audience to her companion's "diatribes," is now left restless and dissatisfied, peering at the corners of the Fourth Wall at the light Mior no longer sees. Like the characters' task of rolling a silver ball in a circle, the story itself repeats and repeats thus making the characters' immutable condition a shared experience one is relieved to finally terminate.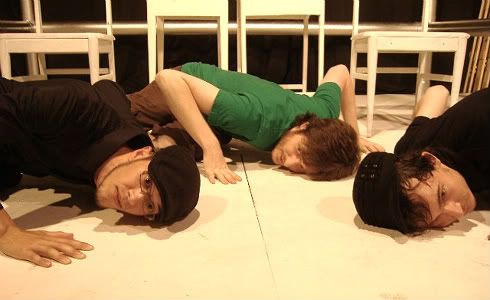 John Manno's This is Entitled: This is Entitled is an absurdist romp of fragments and snippets which the playwright leaves the audience to piece together into a meaningful whole. No small task. Absent structure and foundation, linear reasoning is futile, leaving one to contemplate the efficacy of rules at least in the case of playwriting. On a brighter note, actors John Kuehne, Tim Chrapko and John Olstad comprise a talented and spirited ensemble reminiscent of a "Second City" troupe. The physical comedy is fresh and bold and the speedy repartee accomplished with finesse. As to the story, make of it what you will; that's probably what they had in mind anyway. VS
Systems, Please Wait Ten Minutes and This is Entitled: This is Entitled play at the Alchemist Theatre through July 27. 414-305-9832 for more information, or visit Insurgent Theatre online.