Empathy for the disenfranchised
//end headline wrapper ?>
Get a daily rundown of the top stories on Urban Milwaukee
Smart people in diverse urban areas have always been at least aware, if not suspicious, of night club dress codes. Often in place to detract gangs, keep out the riff-raff and attract a classier clientele, the codes at their tamest ban slumpy clothes — no jeans, no sneakers, no baseball caps — and, at their most extreme, bar most common trappings of hip-hop fashion, including jerseys and athletic wear, do-rags, baggy pants (highly subjective?), Timberlands, certain brand names, "club" colors, and hairstyles including, egregiously, dreadlocks.
A reasonable dress code is probably no cause for alarm, especially when enforced reasonably — and uniformly. (I can personally vouch for at least one bouncer at
Tangerine
, who refused entry to the glaringly white
Matt Wild
, who was wearing a black t-shirt, black dress and — the offensive accessory — a pair of black Converse All-Stars.) But I'd guess that for every club that institutes a fair and balanced dress code, there's at least one more whose policies, in practice, serve to turn away scary, trouble-making black, Hispanic or otherwise minority clients and attract clean-cut, rich and respectable white men who aren't interested in patronizing "urban" clubs.
Student groups around the country, including in Madison, have organized to call attention to the dress code issue, and legislators in cities as disparate as Des Moines and Virginia Beach have taken action. And this week in Milwaukee, Decibel is rightfully being taken to the mat on the enforcement of their dress code after John Jordan, a 40-year-old black Milwaukeean, presented video evidence that he'd been unfairly turned away from the club, allegedly for wearing boots and baggy pant. It seems, however, that the gig is up: as if the video footage were not enough, Jordan SWITCHED CLOTHES with his white friend — who was admitted.
The state has issued Jordan a right-to-sue letter and there is an appeal in to the Common Council to deny Decibel a license renewal when it comes up at the end of the year. Decibel, in the eternal words of Freddie Foxxx — you're busted.
Today I posted Judith Ann Moriarty's of Gilbert and George at the Milwaukee Art Museum. While I was editing I reviewed my own notes from the press preview and remembered what the curators and artists had stressed as the fundamental take-away points of the work: empathy, and celebration, of the disenfranchised. And while it's definitely a politcally charged, in-your-face exhibition, I think it's great success is that its relevance isn't hemmed in by issues of the day and time. Preposterously, I had kind of pre-conceived G&G as "that AIDS show." Oh, was I wrong. It's not even that G&G used to be that AIDS show, but now it's the London Pakistani Diaspora show, or the Terrorism by Association show or the GLBTQ show or the turd-and-cock show.
At the heart of the show is the simple matter that disenfranchisement, discrimination, racism, sexism, bloodshed and class warfare are part of the human condition, and always have been. The implication? Gilbert and George only make art about the only things that matter; in their own words, "death, sex, fear, life, race, religion and money. There is nothing else."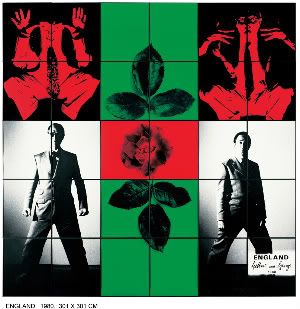 It takes courage to live compassionately, to fight against these things that are so ingrained and inevitable. I thought about Gilbert and George this morning when I read about John Jordan, and I've kept them in mind for the past month as I've struggled through stresses, trials, tragedies and great reckonings this summer. Their philosophy on art translates fluidly to a philosophy for living simply and healthily in a chaotic, ambiguous world. Again, in their own words:
"Always be smartly dressed. Make the world believe. Never worry, discuss or criticize. Be calm, polite and in control."