Half-Baked (Why presidential candidates should clean their plates)
//end headline wrapper ?>
Get a daily rundown of the top stories on Urban Milwaukee
When Barack Obama exited a Pennsylvania diner, he left behind a plate with a half-eaten waffle and a bit of sausage. Too bad he didn't clean his plate by stuffing his face, as a waitperson snapped up the detritus and bagged the contents (including the silverware), the result being that it showed up on Ebay, alas to no avail, as it was yanked shortly thereafter. But that didn't stop the masses calling themselves "artists." As of late April, an enterprising type had sallied forth on Ebay with a small oil painting, "Memories of Barack Obama", billed as a one-of-a-kind. Down in Kansas City, artist Sonja Shaffer unveiled paintings of Obama at the Unity Temple, a cozy place I've eaten (not waffles) at frequently. It was billed as an Obama fundraiser, with 10% of the sales going to the Obama campaign. The bad news is the Temple limited reservations to no more than twenty five. This would seem to be a losing proposition for everyone.


Down in Florida, the Department of Transportation was blasted with gripes that a painting of Barack was a shill for votes, the result being that the Miami-based artist had to paint over BO's face on the mural, which originally was to be part of a beautification project. The artist, one Serge Toussaint, used white primer in the work, and further griped he is now being accused of "whitewashing" Obama. Isn't it amazing what artists will do for a shred of publicity? Or could it be that Obama's people are fueling the mania for things Obama? Would they dare?
For your perusal, I've included some suspect images by artists vying for fifteen minutes of fame. It's only going to get worse as we grind on to November. In retrospect, the small painting of the waffle/sausage remains reminds me of the foodie paintings of Wayne Thiebaud, whose slices of eats can be seen at the Milwaukee Art Museum. At least it shows possibilities, and of all of the many Obama images to be found online, it's only half-bad.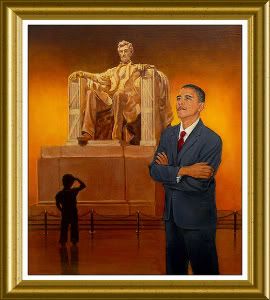 It must be hell being a presidential candidate, or the Bronze Fonz, which is on the move again, this time to a more "visible" site on the former Tula's patio on the Riverwalk.