Live from Branson
The mayor and the cowboy
Get a daily rundown of the top stories on Urban Milwaukee
Branson was absurdly hot and sunny today, and it is absurd that we are still awake; I think we're pushing 36 hours at this point. Even more absurdly, I haven't had any coffee since breakfast: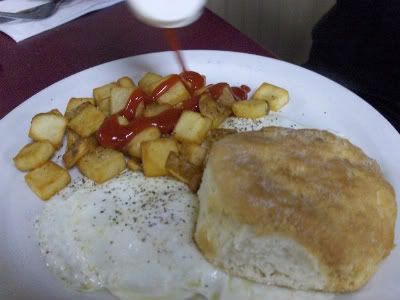 We spent the early afternoon browsing historic downtown Branson, which is lined with flea markets, antique rummage stores, "bazaars," diners and a few out of place boutiques, including a five-and-dime that claims to be "just like the old times," shown here in this ridiculous portrait: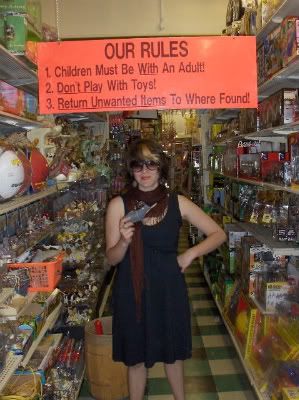 After a beer at Waxy O'Shea's (which sounds like a hiccup from a computerized generic-Irish-bar-name generator) we cruised the 76, Branson's strip of country gospel barns, mini golf courses and kitschy museums, on our way to Celebration City, a picturesque amusement park replete with fountains, bumper cars, an arcade and doo-wop music. Where, among other very important and interesting things, we rode a killer wooden coaster, saw a performance by some Ultimate Dogs (who were adorable, but mostly just good at catching frisbees), and MET THE MAYOR OF BRANSON, the lovely Raeanne Presley. Lovely, who are we kidding? She is a total babe, and very charming, and has a gorgeous accent, and is well dressed. Okay, I'll admit it: it's love.
Mayor Presley, by the way, is the wife of one of the members of the Presleys' Country Jubilee, Branson's original live show and the family dynasty that has made Branson into the live country music capital of the world. Suspicious, disingenuous or just plain confusing? Maybe it would be … anywhere but here.
As we were driving home, the blaring sun finally sinking and the ice cream parlors all shutting down for the night, I saw what looked like a real (and really stunning) Missourah cowboy cross the street in muddy jeans, a white shirt and the sassy cowboy hats I keep seeing for sale on the street (which, by the way, look terrific on me):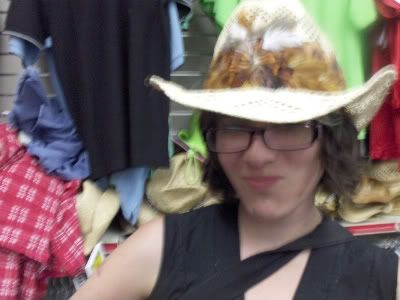 We shared a glance and my heart fluttered. Branson, I might be wrong, but against my more pedestrian expectations, you might be out for my heart.