Sinners + Saints – 4.18.08
//end headline wrapper ?>
Get a daily rundown of the top stories on Urban Milwaukee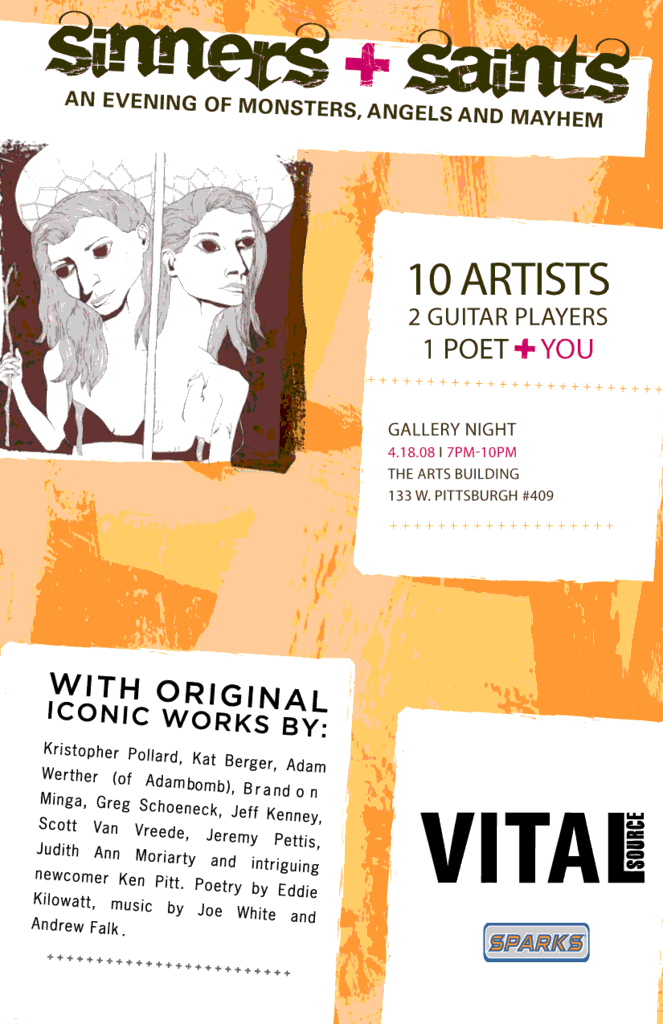 Enter an otherworldly realm with us this Friday at THE ARTS BUILDING, as 10 artists from divergent traditions – from Kristopher Pollard's compelling ink portraits to Adam Werther's ethereal and disturbing imagery to the typographic riffs of Jeremy Pettis – take on heaven and hell, devotion and doubt, temptation and resistance, iconography and iconoclasm and everything in between.
With acoustic reconsiderations of sex, drugs and salvation by Andrew Falk and Joe White, a reading by Milwaukee's bard of bald-faced truth Eddie Kilowatt, and a generous contribution from SPARKS, this party will make you a believer!
PARTICIPATING ARTISTS: Kat Berger, Jeff Kenney, Brandon Minga, Judith Ann Moriarty, Ken Pitt, Jeremy Pettis, Kristopher Pollard, Greg Schoeneck, Scott Van Vreede and Adam Werther
7-10 pm • 133 W. Pittsburgh, #409
Come early – the multi-talented members of The Arts Building will open their studios for perusal at 5 pm!