Press Release
Rep. Mark Spreitzer's statement on latest Voter ID rule
"We are a month away from a major election, and there is mounting evidence that voting and voter registration has become chaotic and complicated by design."
MADISON – Earlier today, the Joint Committee for Review of Administrative Rules (JCRAR) voted to extend an emergency rule related to Voter ID and the issuance of IDs by the Department of Transportation (DOT). According to recent news articles, staff at DMVs around the state have been giving out inaccurate or confusing information to voters on how to obtain the correct documentation necessary to vote. In response to the vote, and to the current state of elections in Wisconsin, Rep. Mark Spreitzer (D-Beloit), made the following statement:
"Wisconsin has discouraged our residents from voting by making it far too difficult through the Voter ID law. By creating the myth of voter fraud, and preying on fear to gain support for restrictive laws, paranoid Wisconsin Republicans have done a disservice to our state. The Voter ID law is nothing more than a handy political solution to a ginned up controversy to ensure complete Republican control of state government.
"We are a month away from a major election, and there is mounting evidence that voting and voter registration has become chaotic and complicated by design. I wholeheartedly disagree with the Voter ID law, and this rule does nothing to fix the major problem: that Wisconsin's Voter ID law is a 'wretched failure.'"
Mentioned in This Press Release
Recent Press Releases by State Rep. Mark Spreitzer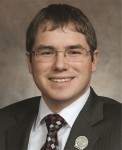 Jun 4th, 2019 by State Rep. Mark Spreitzer
"As an out gay man, I am proud to stand by my fellow LGBT legislators today to present the Equality Agenda in honor of Pride Month."