Press Release
Downtown Milwaukee turns on holiday cheer Thursday
Milwaukee Holiday Lights Festival Kick-Off to feature music, dancing and fireworks in Pere Marquette Park
The Milwaukee Holiday Lights Festival will light downtown's parks and streets for the 16th season during its switch-flipping ceremony, the Milwaukee Holiday Lights Festival Kick-Off Extravaganza, on Thursday, Nov. 20 in Pere Marquette Park.
Festivities begin with a holiday variety show at 6 p.m. Highlights include performance ice sculpting by Ice Beat Factory; live music by Chasin' Mason, Naima Adedapo and Jenny Thiel; radio theater by Wisconsin Hybrid Theater; and dancing by The Dance Academy of Mexico and Studio VIA. The show's guests of honor, Santa Claus and Billie the Brownie, will flip the switch on downtown's décor at approximately 6:40 p.m. with Mayor Tom Barrett and County Executive Chris Abele. A holiday-themed fireworks display will top off the night.
Free hot cocoa and cookies will be available, compliments of Cousins Subs® on Old World Third and State streets, Associated Bank and River's Edge Catering. Plus, following the park lighting, families are invited to tour downtown Milwaukee's sights with free Jingle Bus rides. Lighted scenes include "Community Spirit Park" at Cathedral Square Park, "Candy Cottage Forest" at Pere Marquette Park and "Frosty Frolics" at Zeidler Union Square.
The Milwaukee Holiday Lights Festival will illuminate downtown parks and streets Nov. 20 through Dec. 28. More info is available at www.milwaukeeholidaylights.com.
WHERE:    Pere Marquette Park – 900 N. Plankinton Ave.
WHEN:    Thursday, Nov. 20
5:45 p.m. – Pre-Show Music by Chasin' Mason
6 p.m. – Milwaukee Holiday Lights Festival Kick-Off Extravaganza Begins
6:40 p.m. – Switch-Flipping Countdown/Fireworks Show
6:40 p.m. to 9 p.m. – Free Jingle Bus Rides
Mentioned in This Press Release
Recent Press Releases by Milwaukee Downtown, BID 21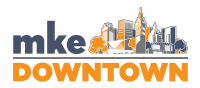 Oct 21st, 2021 by Milwaukee Downtown, BID 21
Six-week festival bundles more than a half million lights and downtown's most cherished happenings