NARI Milwaukee 30th Annual Home & Remodeling Show
October 18 @ 10:00 am

-

5:00 pm

$5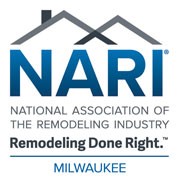 For the past few months, calls have been pouring in to NARI Milwaukee members. Families who've been spending significantly more time at home and in their yards are looking to make changes.
They're asking for updated kitchens with a better workflow, improved bathrooms that can accommodate more usage, finished basements with home offices and rec areas, a backyard patio for entertaining and everything else in between.
For those who have projects in mind, the NARI Home & Remodeling Show is the place to find qualified professionals who can do the job right. This year's show runs Oct. 16-18 at the Wisconsin Products Pavilion at State Fair Park, 8200 W. Greenfield Ave., West Allis.
More than 80 NARI Milwaukee members will be exhibiting and on hand to answer questions, make recommendations and provide guidance, solutions and creative suggestions. In fact, now is the time for homeowners to line up contractors for their 2021 home improvement and remodeling projects.
Participating exhibitors run the gamut of remodeling and home improvement services and products – from design/build firms to specialized contractors for all areas of the home, including roofing, gutters, windows, doors, HVAC, electrical and more.
For those who'd like to experience portions of the show from home, NARI Milwaukee is hosting a number of Facebook Live Events. The Facebook Live schedule will be posted at NARIMilwaukeehomeshow.com in the coming weeks.
"We're excited to connect homeowners who are eager to get their home improvements underway with local contractors. By hosting a safe and accessible show, we're helping reopen the economy and support area small businesses," says Diane Welhouse, CKBR, executive director of NARI Milwaukee. "Nearly 80% of our members are small businesses with fewer than 10 employees so the annual show is important to them."
Health & Safety Protocols
In response to the coronavirus, NARI Milwaukee, State Fair Park and Valley Expo Services have implemented a number of new protocols as part of the show. A detailed Health and Safety Policies document is available at NARIMilwaukeehomeshow.com.
The protocols include (but aren't limited to):
• An updated entry and ticketing procedure, based on six-foot social distancing guidelines.
• Hand sanitizer stations located in the vestibule, at the entry and throughout the show floor.
• Controlled capacity, one-way aisles, additional cleaning and social distancing.
• All exhibitors and show attendees will also be required to wear face coverings.
NARI Home & Remodeling Show Details
Tickets for the 2020 Home & Remodeling Show are just $5. Children age 17 and younger and retired and active duty military personnel (with I.D.) are free. Parking at State Fair is $6 and ample street parking is available.
The NARI Home & Remodeling Show runs:
• Fri., Oct. 16, 12 p.m. – 8 p.m.
• Sat., Oct. 17, 10 a.m. – 7 p.m.
• Sun., Oct. 18, 10 a.m. – 5 p.m.
For more information on the NARI Home & Remodeling Show or to receive a free copy of "Renovate," our new consumer magazine and membership directory, visit NARImilwaukee.org or call 414-771-4071.