Shimmy like jelly on a plate
//end headline wrapper ?>
Get a daily rundown of the top stories on Urban Milwaukee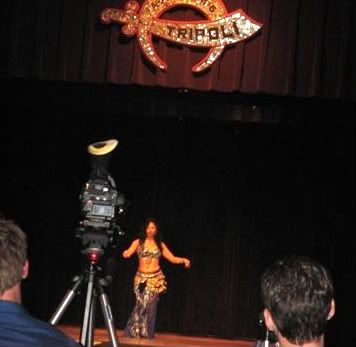 Last Saturday evening, September 5, I found myself in the ballroom of the Tripoli Shrine Temple at 3000 W. Wisconsin. It was my first visit to the 1928 structure built to resemble the Taj Mahal, and the parking lot was filling fast when I swung into the guarded space and walked through the south entrance to the wonders beyond. The blaze-orange ticket in my hand said "Jim Boz, Middle Eastern Dance Performance Showcase." For those not in the know, Boz is a leading figure in the art of belly dancing, and he traveled here from San Diego to pump the evening's lineup of participants.
In the lobby fronting the hall – a lobby dripping with intricate mosaics and entwined tiles – a bar was doing a brisk business near a splashing fountain lit with multi-colored lights. Local photographer John December was busy taking shots of spangled ladies descending the impressive staircase. Here and there, clumps of women arrayed in gauzy somethings drifted by. In the grand ballroom, multiple vendors hawking multiple items necessary for exhibitionism exotica, waited to sell humongous hookahs, glittering headpieces, wild skirts and tops, and well, whatever one needs to shimmy and shake like sister Kate.
On with the show. In three segments with three 15 minute intermissions, out came a diverse assortment of smiling dancers, ready to do their thing to the beat of canned music: students led by their teachers and brave dancers prepared to perform solo.
All except two were women. One of the two male dancers, Richard Gaeta, is a friend of my sister, and earlier in the evening we had cocktails and eats at the Arts & Crafts home he shares with his partner. Richard confided he was very nervous about the whole thing (and never ever does he eat prior to performing), though he needn't have fretted as he did just fine during his dance with a woman and the one other male, a veritable snake of a man who has been taking lessons for only four months. I wasn't able to get a good photograph as I was sitting at the back of the room along with several people who were recording the entire night for posterity. The cheering audience (estimated at several hundred) seemed to be made up of mostly cheering and clapping friends and relatives of the performers. I heard an elderly lady comment, "40 years ago, I took belly dancing lessons." A woman in a wheelchair with two huge oxygen tanks strapped to the back, clapped and cheered like crazy too, as if she was about ready to leap onto the stage and fling a few.
Not all of the evening's events were strictly mid-east in persuasion – for example, a lovely interpretative dancer gave her interpretation of "Amazing Grace," dedicated sweetly to her mom and grandmother who were likely sitting upfront. Another performed with a genuine white snake draped around her body, giving rise to my fears that PETA types were lurking somewhere near the room's draperies, waiting to pounce. From my perspective, the snake seemed contented.
And then came a moment of pure hilarity: a guy in a hardhat strutted on stage, flexed his beautiful body, and whipped up a "Macho Man" satire. Not one inch of his compact flesh was left loitering. He twitched, undulated and rippled, then tore off his break-away tee and ripped the night asunder by dancing in his lean jeans while venturing onto a runway dividing the sweating crowd. A chap sporting a mullet-do went wild at the sight of a guy who, on command, could twitch not just one pectoral, but two, to a syncopated beat.
I didn't survive for the third segment on the performances … the one featuring Jim Boz. Two hours in and my aching knees saw no chance to get to the front of the bar line during intermission. I searched in vain for a bubbler and even considered the splashing fountain as a thirst quencher. A guy standing next to me was considering the same thing, but he remarked, "No way. Kids have been washing their hands in it."
If I got anything out of the extravaganza, it's this: ladies of plus size persuasion, ladies whose flesh is ample, are every bit as graceful as those with lean mean bellies. In fact, dare I say, the more the flesh, the merrier the shimmering shimmy? As for the two lone male dancers (make that three, because Macho Man was testosterone laden), they fit right in, flat chests and all.