Press Release
Rep. Sensenbrenner Statement on the Passing of Congressman Melvin Laird
"Congressman Laird committed his life to public service and his fellow Americans."
WASHINGTON, D.C. – Today, Congressman Jim Sensenbrenner released the following statement on the passing of former Wisconsin Congressman Melvin Laird:
Congressman Sensenbrenner: "Congressman Laird committed his life to public service and his fellow Americans. His accomplished legislative record and distinguished service at the Department of Defense made him well-respected among his colleagues and one of the most effective leaders in Washington. Although today we mourn his passing, we must also celebrate his illustrious life and legacy."
Mentioned in This Press Release
Recent Press Releases by U.S. Rep. Jim Sensenbrenner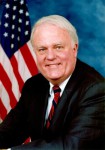 Jul 20th, 2017 by U.S. Rep. Jim Sensenbrenner
This legislation would increase current visa caps in order to fill open nursing positions and provide immediate relief for hospitals facing shortages.
Jul 13th, 2017 by U.S. Rep. Jim Sensenbrenner
"Every American – no matter the color of their skin – needs to know that we understand their right to vote is sacred."
Jun 29th, 2017 by U.S. Rep. Jim Sensenbrenner
The MOTION Act would allow railroad employees to remain on duty and continue working in excess of federal hours of service limits to ensure their trains are not blocking crossings.