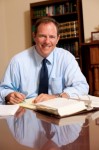 Press Release
Rep. Richards' Statement on Updated Revenue Projections
Madison—Rep. Jon Richards (D-Milwaukee), a member of the legislature's budget-writing committee, released the following statement in response to the new revenue estimates released today by the Legislative Fiscal Bureau.
"Wisconsin continues to lag behind most of the country and all of the Midwest in job growth, after the tools to maintain and build our middle-class were slashed in the last state budget.
"From historic cuts to our public schools and worker training to tax hikes on working families, Wisconsin's middle-class has taken the brunt of the sacrificing in the last two years.
"Now that we have a clearer picture of the state's finances, I look forward to working with my colleagues to craft a real middle-class budget—one that restores funding to our public schools, universities and health care, includes a middle-class tax cut and makes sure everyone pays their fair share."
People:
Jon Richards
Government:
State of Wisconsin
,
Wisconsin Legislative Fiscal Bureau