Building Info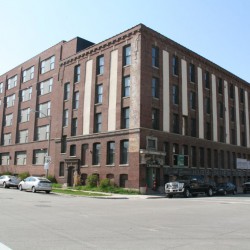 Address

:

224 W. Washington St.

Taxkey

:

Status

:

Assessment

:

$1,239,000 (2014)

Year Built

:

Size

:

113,910
The Shoe Factory Lofts is an under construction conversion of two buildings into a 55-unit apartment complex. The conversion is proposed by Keystone Development LLC of Oshkosh.
The joint buildings were occupied as of February 2015 by Antiques on Second, a large consignment antique store. That store has since relocated. The store, with nearly 200 dealers, had been in the building since July of 2010.
The shorter, four-level building on the corner of S. 2nd St. and E. Washington St. was built in 1902 according to city records. It is the namesake for the conversion proposal, having formerly been a shoe factory. That building has 39,090 square-feet of space.
The tallest five-level building to the west was built in 1929 and has 74,820 square-feet according to city records. Both buildings have brick exterior walls.
The project was conditional on the successful receipt of low-income housing tax credits. The $564,206 application would set aside 47 of the 55 apartments for low income tenants.
Learn More
Photos
Activity
ID
Date
Type
Description
PWCF-17-13101
2017/08/31
New Service Request

Department of Public Works Activity:Weeds/Tall Grass Complaint| Curb grass overgrown onto sidewalk. grass by building unkempt. Garbage around building. entered address: 224 W WASHINGTON ST.

ENF-2017-17755
2017/06/26
New Service Request

DNS Activity:Interior Of Building In Disrepair| Sound proofing between apt. 313 & 213 is non-existent; resulting in tenant to abandon lease without spending one night in apartment and still paying rent. Request certificate of occupancy inspection entered address: 224 W WASHINGTON ST.

PWEC-17-00162
2017/01/25
Permit

ROW Excavation City Contract.

PWEC-17-00164
2017/01/25
Permit

ROW Excavation City Contract.

ELEV-16-00015
2016/11/23
Permit

Elevator Permit.

PWEU-16-02387
2016/11/04
Permit

ROW Excavation Utility.

1188769
2016/08/30
Permit

Gas Piping

1180057
2016/06/01
Permit

Masonry Building Cleaning

1179907
2016/05/28
Permit

Distribution Sys(ductwork)

1179908
2016/05/28
Permit

Gas Furnace

1179909
2016/05/28
Permit

Kitchen Exhaust Hoods

1179906
2016/05/28
Permit

Air Conditioning

1179232
2016/05/24
Permit

Masonry Building Cleaning

1177824
2016/05/10
Permit

Masonry Building Cleaning

1176522
2016/04/27
Permit

Plumbing-Seal/Abandon

12051171
2016/04/22
Violation


~~Take appropriate measures to control and maintain property to prevent fugitive dust from leaving the site. / 80-6.1 /

1175237
2016/04/14
Permit

Electrical-New

12026771
2016/04/08
Violation


~~Take appropriate measures to control and maintain property to prevent fugitive dust from leaving the site. / 80-6.1 /

12026361
2016/04/05
Violation


~~Submit facade critical exam report

791993
2016/03/25
New Service Request

Remodeling being done in this building, they put a fan in the window to blow the dust outside.

1172409
2016/03/11
Permit

Plumbing-Repair

1171788
2016/03/05
Permit

Fire Alarm-New Install

1171214
2016/03/01
Permit

Fire Suppression r

1169898
2016/02/16
Permit

Plumbing-New

1167566
2016/01/15
Permit

Asbestos Project

230352
2015/12/29
Recording Application

new recording application

783303
2015/12/18
New Service Request

GRAFFITI ON THE CALL BOX NEAR SAID LOCATION

11862081
2015/12/15
Violation

FIRE PREVENTION
~~Provide a certificate of critical exam for fire es

11844691
2015/12/05
Violation


~~Right of entry for required fire inspection

229520
2015/11/26
Recording Application

new recording application

1163542
2015/11/24
Permit

Asbestos Project

1161120
2015/10/30
Permit

Alteration-Units Added

11720911
2015/09/29
Violation


~~Submit facade critical exam report

771462
2015/08/28
New Service Request

Debris/Litter:Large Items; THERE IS AN OPEN PLASTIC GARBAGE CAN IN THE ALLEY, NEXT TO THE BUILDING, HALF FILLED WITH A LIQUID APPEARING MOSTLY TO BE VARNISH OR OTHER MATERIALS USING IN WOODWORKING.

749167
2015/02/14
New Service Request

Please verify if building is vacant

1103444
2014/03/10
Permit

Gas Furnace

1103468
2014/03/10
Permit

Electrical-New

ID
Date
Description
Type