Building Info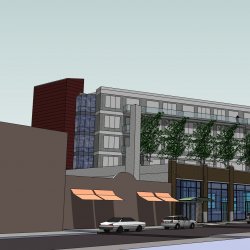 The Prospect Mall Apartments is an under construction project to convert the former Prospect Mall into a mixed-use building. The expanded building will include four new floors housing 52 apartments, as well as 52 indoor parking spots and about 10,000 square feet of retail space.
The project is being led by Robert Joseph of Joseph Property Development. Joseph is the grandson of George Bockl, who originally converted the building from an auto dealership into a mall. Joseph acquired the property from BoulderVenture, Inc. for $1 million. Construction started in January of 2013.
Building History
Before it was converted to the Prospect Mall in 1976, the building housed a car dealership under a number of names (Lake Park Motors, Inc., Bob Black Oldsmobile, Inc., East Side Chevrolet Company, "Bud" Donahue Chevrolet, Schlesigner Chevrolet). The building itself was constructed in 1912. The site previously held the Farwell Ave Barns for the Milwaukee Electrical Railway and Light Company.
The building and parking lot (across Prospect Ave) were acquired in 2004 by BoulderVenture, Inc (Prospect I, LLC) for $2,350,000. The mall was sold in 1977 by developer George Bockl (who built the mall) to First City Resources Corporation (Prospect Mall Partners).
Marcus Corp. operated a three-screen cinema (Prospect Mall Cinema) in the building until June 18th, 2006.
Past Proposals
During the time BoulderVenture, Inc. owned the property (starting in 2004), a number of proposals were floated for the mall. In 2008, the firm attempted submitted a bid to the UWM Real Estate Foundation that was one of three finalists for a new UWM residence hall. The residence hall would have been located on the former mall parking lot.
In 2009, Mercy Housing Lakefront submitted a proposal to win affordable housing tax credits to convert the building to apartments. That project did not receive funding. A similar project was proposed in 2010 by CommonBond Communities, which also did not receive WHEDA affordable housing tax credits.
Learn More
Photos
Articles Referencing Prospect Mall Apartments (The Overlook on Prospect)
See More Articles